With Valentine's Day Around the corner, pretty much everyone, including artists, can't seem to escape the powerful spell of love and passion. Even artnet News gets a bit romantic these days, bringing lovely kisses to the attention of its readers.
Damien Hirst is launching a Valentine's Day pop-up exhibition at London's Paul Stolper Gallery that will focus exclusively on the theme of love. Works include butterfly prints, pink-and-red sculptures that recall the candy hearts you gave out in grade school and a sculpture of a heart pierced by a crossbow bolt suspended in a candy jar.
"Damien has always believed in love. It's a common theme in his work," said gallerist Paul Stolper. "There's nothing wrong with love. He's proud to celebrate that."
Take Much Better Than This by Rafaël Rozendaal is a site-specific video-installation in New York'sTimes Square. The work is shown as part of the Times Square-based public art series "Midnight Moment". Every night during February the square's numerous screens are taken over by a three-minute digital animation that features a couple kissing delicately, their faces changing color every time their lips meet. "We're bombarded with negativity throughout the day, it's good to give love some attention on the biggest screens in the world," the artist told the Creators Project.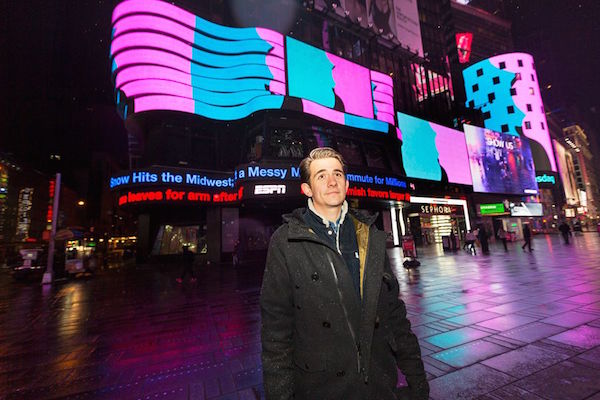 Meanwhile, Tino Sehgal, took over the city center of Leeds for a night last week to restage his 2002 performance This is Kiss.
The work, which is inspired by Auguste Rodin's The Kiss (1882-1889), looks like pretty much what it sounds like it would: a group of dancing couples from the Northern School of Contemporary Dance kissed, frolicked, and got up close and personal in the streets across town. Only onlookers had not been warned that they were witnessing an art performance, which surely prompted the old adage "Get a room!" in more than one mind.
With This is Kiss, Sehgal joins the ranks of artists that have filled museums, and galleries with smooch-based performative actions, including Orlan's Le Baiser de l'Artiste at the Grand Palais in Paris (1977,) Marina Abramović & Ulay's ominous Breathing In Breathing Out at the Stedelijk Museum in Amsterdam (1978,) Jirí Kovanda's Kissing Through Glass at Tate Modern in London (2007,) and Clifford Owens' Anthology at New York's MoMA PS1 (2012.)
"Words may not convey it, say it with a kiss," sang Billie Holiday in 1938. It seems like contemporary artists are more than keen to oblige.
via  Tino Sehgal and Rafaël Rozendaal Pucker Up in Time for Valentines Day and Damien Hirst Loves Valentine's Day on artnet News.