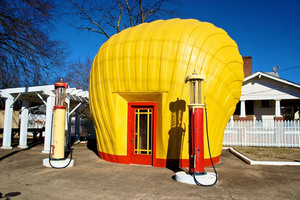 Although Winston-Salem, North Carolina is known more for tobacco than oil, it is home to the last Shell Oil clamshell station in the United States. Located on the quiet corner of Sprague and Peachtree Streets, the station sits abandoned, its two tall pumps now no more than curiosities.
In the 1930s, a local distributor of Shell called Quality Oil built seven stations in Winston-Salem and one in the nearby town of Kernersville. Joe Glenn and Bert Bennett, who had acquired the distribution, erected the clamshells as advertisements; their quirkiness attracted customers.
The clamshell stations represented the transformation of a brand into a building, a symbol into a real thing. When Raymond Loewy designed the current Shell symbol in 1971, it had already gone though many incarnations. Although the original 1901 brand for the London-based Shell Transport and Trading Company was a mussel shell, by 1904 the scallop shell was introduced – possibly from the family coat of arms of the company's founder Marcus Samuel, whose business would merge with Royal Dutch Petroleum Company to form Royal Dutch-Shell Oil. Samuel had a habit of naming his tankers after different kinds of shells, and he had a background importing objects from the Far East, including beautiful shells.
It wasn't easy to make shell-shaped gas stations. The office and bathroom area were boxed in, surrounded by a bent wood and wire frame, and then covered in stucco. This last station remained open until the 1950s and housed a lawn mower repair business in the 1970s and 80s. In 1976, it became the first individual station in America to be listed on the National Register of Historic Places.
Formerly a regional office for Preservation North Carolina, now the clamshell is a shrine to itself. On the walls inside hang framed newspaper articles about its opening and a clamshell station calendar. Antique black-and-white photographs line the shelves, which also display a teddy bear, old Shell signs, a coffee mug, miscellaneous antique cans, and a tin of vintage Monkey Grip Patch. A coffee table book has been left open to a picture of the station. In one corner sits an antique red container labeled Shell.
Preservation North Carolina still holds protective covenants on the property, so the clamshell will be preserved in perpetuity.
|