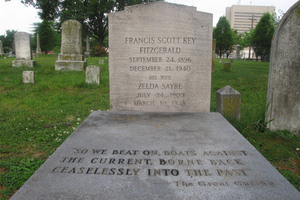 Famed author F. Scott Fitzgerald and his fabulous wife Zelda were lived opulent lives of wine and roses before falling to respectively tragic ends as though they were characters right out of one of Fitzgerald's novels, and their humble shared gravesite reflects the subtle despair that ran through their lives.
Despite being American royalty in the roaring 20s thanks to F. Scott's novels and Zelda's heady celebrity, later in life the couple's fairytale lives had rotted from within. At the end of his wildly successful writing career Fitzgerald had become estranged from Zelda and worked in Hollywood as a scriptwriter. His wild partying and legendary drinking had caught up with him and left him near penniless. In the meantime Zelda herself, suffering from chaotic bouts of severe depression bounced around East Coast mental institutions. F. Scott died of a heart attack in 1940, while Zelda passed away a few years later in a hospital fire.
With little money left in the estate and the tarnished reputation of their final years the Fitzgeralds were not immediately given a grand burial. F. Scott was quietly buried in a family plot at St. Mary's Catholic Church in Maryland, and when Zelda passed, she was interred directly above her late husband's body. It was not until years later that a proper headstone was installed for the couple bearing the final words from The Great Gatsby:
"So we beat on, boats against the current, borne back ceaselessly into the past."
Today the frequent visitors to the small cemetery often leave gifts and small bottles of booze to honor the couple, but more often than not, the little graveyard is simply overlooked regardless of the giants buried just beneath the surface.
|