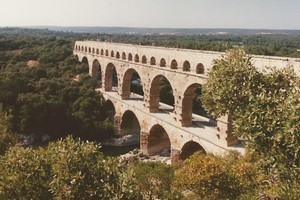 A number of large constructions from classical Rome have survived down the centuries from showing not only the quality of their construction, but the beauty of their design, and their aqueducts in particular are known for both. Possibly no better example of this exists than France's grand Pont du Gard.
Built in the first century CE the beautiful arched bridge was used both as a traffic bridge and as an aqueduct spanning the Gard River. The three-levels of the bridge tower over 160 feet above the river with each level decked out in sweeping arches. The colossal blocks that much of the span is composed of were put in place using primitive pulley and lever technology and amazingly used very little mortar; a detail that once again speaks to the staggering mechanical innovation of the builders.
Water flowed over the bridge for hundreds of years before clogging and breakage caused it to fall into disuse, however the sturdy stones continued to stand tall even as time and climes beat against them. While the water stopped running over the bridge centuries ago, the human traffic never did. In fact it was the bridge's usefulness as a roadway that likely kept it in such good condition with people repairing it down the ages to keep it running.
The bridge no longer allows vehicle traffic and is mainly a historic attraction, and thanks to those amazing Romans it should continue to be for hundreds of years to come.
via