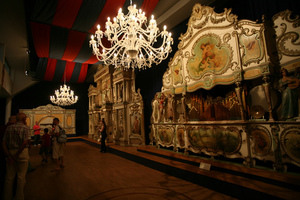 Utrecht's Museum Speelklok specializes in that certain kind of historic robot created solely to play music without the help of any pesky humans.
The Speelklok (which translates to "musical clock") has been around since 1958, spawned from an exhibition of self-playing musical contraptions just a couple of years previous. Originally the dinging, clicking, melody-making collection was presented in a portion of a church, but thanks to a group known (awesomely) as the "Friends of the Mechanical Organ" the permanent exhibition was grown and eventually relocated to its current location in a medieval building in 1984.
Across the sprawling collection of self-playing instruments are massive mechanical boxes with moving figures to accompany the tunes, intricate clockwork inventions that can play a violin buried in its innards, and a number of iconic Dutch "street organs" that use a forest of pipes to delight and entertain. There are also a number of smaller musical oddities such as music boxes, pianolas, and self-ringing carillons rounding out the delightful collection.
In addition to the whimsical devices on display in the museum, the center is the world leader in repair and restoration of historic musical automata. Long before iPhones, Walkmen, or boomboxes, these elaborate carnival wonders the best way to experience music in public and thanks to Museum Speelklok, we won't forget it anytime soon.
via