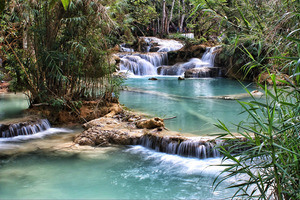 Nestled in the Laos jungle near the Tat Kuang Si Bear Rescue Centre, the cascading tiers of the Kuang Si Waterfalls draw gawking onlookers seeking a little bit of serene beauty in the midst of the jungle's cacophony.
The vibrant blue waters that flow down the falls travel down through a series of pools before rejoining the flow of the jungle river. After ages of flowing over the rocks, the falls have etched deep lines into the stone creating a beautiful travertine pattern. The pools are smaller near the top of the falls, but tend to wider out nearer to the bottom eventually becoming big enough to swim in should the tropical heat inspire someone to jump in as it often does. The locals (who charge a small fee to visitors to the falls) have built out a wooden platform that visitors can take in the rushing waters from, or even dive off of in some places.
Reaching the Kunag Si Falls is a bit tricky as they are pretty far off the beaten path and require a willing driver or rental. However the ubiquitous tuk-tuk drivers in the nearby town of Lunag Prabang are generally willing to take anyone interested in traveling to the falls for a nominal (if negotiable fee). Its well worth it to haggle your way into a ride to the falls not just to escape the heat by swimming in the pools, but also to soak in some natural beauty found few other places in the world.
via