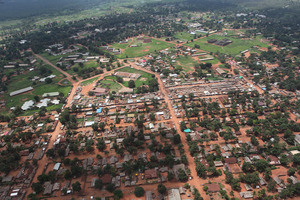 Once a small village on the edge of the Democratic Republic of the Congo that was barely even mentioned on most maps, Gbadolite was transformed into the extravagant seat of a dictator who changed the face of the country, but now the tiny town is a ruined complex of despotic extravagance gone to seed.
When former journalist Mobutu Sese Seko took power in 1965 with the help of the CIA and other American supports, he dug deep into the country's coffers to turn his ancestral village into a glimmering jewel where he could live and entertain like a king unrivaled. Before Mobutu's reign, Gbadolite was simply a small community of less than 2,000 people living in earthen huts, but the dictator constructed a trio of palaces nearby, a full-service airport, a hospital, a five-star hotel with over 100 rooms, and a land transportation infrastructure that could service the remote area.
During Mobutu's reign the lifestyle for the ruling powers in Gbadolite was lavish and extravagant with fine wines, rare cuisine, and full service entertainment facilities that catered to the dictator and his guests despite the poverty surrounding them and the corrupt source of the wealth.
Mobutu's rule ended in a coup in 1997 and during the ensuing war, much of the extravagant flourishes that the ruler had put in were damaged or destroyed and the shining seat of Mobutu's power slid into ruin.
Today Gbadolite is once again a remote village although some of Mobutu's remaining supporters still tend to the remains of his crumbling palaces, conducting tours of the once gilded halls and making sure that the memory of the village's time in the sun doesn't completely fade.
via