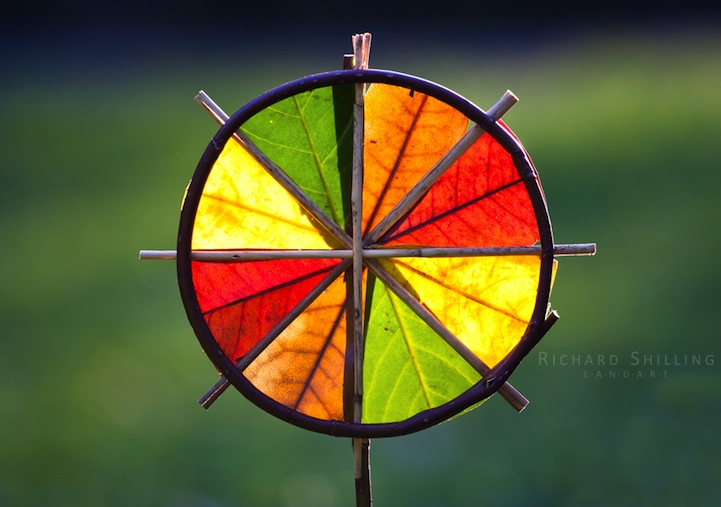 The Land Art of Richard Shilling is all about the process, the doing, the transience.
Using only natural materials gathered near where his sculptures are made, artist Richard Shilling creates some of the loveliest land art we've ever seen. Due to the uncontrollable weather, Shilling sometimes only has a few minutes to capture his creations before they're swept away by the wind. It's within this short period of time that he attempts to bring to life "the most vital and vibrant moment of each sculpture" by photographing them with his camera.
An art movement that emerged in the United States in the late 1960s and early 1970s, land art is where the landscape and the work of art are inextricably linked together. An artist uses only natural materials such as rock, branches or leaves to create works that exist in the open, left to change and erode under natural conditions.
Look through Shilling's beautiful works and notice the patterns and the way he uses the sun to bring out nature's vibrant colors. As he said about the 4 Colour Sun Wheel (above), "I seem to be blessed when it comes to finding the right conditions for photography. The light was perfect and the background quite striking and in a few short minutes I had some nice pictures recorded. The low evening light meant the high contrast look that I like was achieved without any post processing. These are just as they came out of the camera apart from a little cropping. Fortunate indeed. A few minutes later the sun dropped enough so that the wheel was no longer illuminated, I had arrived at exactly the right time."
To him, however, his sculptures are more than just about rearranging leaves, rocks, branches and fruit, they stand as metaphors for life. After he created the Norwegian Maple Autumn Fire Wheel (immediately below) he stated, "Many times I've said land art is all about the process, the doing, the feeling, the seeing. And it's high time I tried to remember that as autumn will be over all too soon. A life lesson about fleeting existence, the transience and flux of all there is. If you don't take the time to stop and listen then that moment is not grasped but gone forever."
| via my modern met