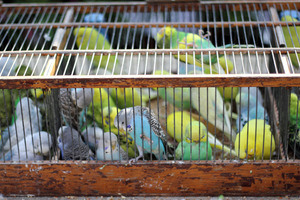 The Paris Flower Market is a favorite attraction for visitors looking to see a more natural side of the beautiful city but every Sunday, when the fresh cut flower sellers take the day off, the market shifts its focus to selling birds of every stripe.
While there are still a number of flowers on display, the sweet smelling displays are outnumbered by the stacks of cages filled with chirping, squeaking, flapping prisoners. Just about anything on two wings can be found in the market ranging from pet birds to livestock, large and small. There are banks of cages filled with parakeets and other small fliers then in stalls just down the lane one can find roosting chickens and cocks.
In addition to the colorful array of feathered beasts, the variety of cages are a sight to see in and of themselves. Ranging from ornate wooden prisons to basic white-painted pet store containers. One could almost create a history of bird-keeping just by walking among the market.
Whether you are looking for something to pet or something to eat in the world-famous City of Lights, this winged market is the perfect place to whet your beak.
via