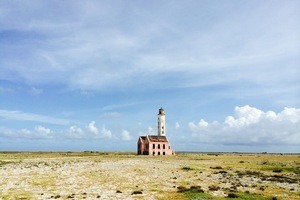 After two hours sailing, bearing southeast from the old Dutch Caribbean outpost of Curaçao, travelers can find an abandoned island.
Called Klein Curaçao (Dutch for "little"), it is a ghostly island that has been uninhabited for generations. Measuring just over half a square mile in size, the silent, flat coral atoll is home only to a deserted lighthouse, the shipwrecks of vessels it failed to save, several collapsed ancient stone buildings, and a burial site. Whilst many desert islands bring to mind tropical paradises, Klein Curaçao is a haunting, windswept place.
The lighthouse, once painted a vibrant coral pink was built in 1850. Standing alone in the centre of the island, it is now abandoned. The wooden stairs to the top of the lighthouse are still intact, as are the two stories of rooms that housed the lighthouse keepers; with no natural source of running water, it must have been a desolate place to live and work. In 1888 the German Navy attempted to build a base here as part of the hoped for Imperial colonization of the Deutsche Karibik, but were driven off by the windswept conditions of the remote outpost when a tropical storm swept away the first foundations of a wharf.
Klein Curaçao neatly highlights the effects of the nature on the island. The northern side is a tropical paradise of palm trees, white beaches, and crystal waters. The southern, windward side, more exposed to the elements, is an unforgiving shoreline of pounding surf, and ragged coral reefs. Here lie the shipwrecks of Klein Curaçao. Looming on the southern beach is the hulking rusted remains of the oil tanker Maria Bianca Guidesman, which ran aground here in the 1960s. Gradually being eroded away by the merciless waters of the Caribbean sea, already half of the tanker has sheared off and washed away. Next to the Maria Bianca is the remnants of a once glorious 30 foot luxury boat cruelly smashed against the sharp coral reefs.
Dotting much of the island are crumbling stone structures that looked like simple dwellings, perhaps once home to passing fishermen. On the northeastern end there is also a simple burial site, marked by a bleached plain wooden cross without a name.
Today day trips are offered by several companies operating out of neighboring Curaçao, that sail to the island by catamaran. A visit to Klein Curaçao is a visit to a remote, ghostly island, surrounded by waters where for many years the principal profession was piracy. And where all you will have for company are shipwrecks, turtles, lizards, and a beautifully faded pink lighthouse, gradually falling into ruin.
via Atlas Obscura